Avalon Beaches
Avalon - Cooler by a Mile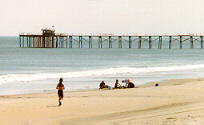 According to the Washingtonian Magazine, Avalon is the "best beach in New Jersey" because of its gentle surf, natural dunes and attentive lifeguards. Because special grasses have been planted in these dunes, Avalon beaches do not get the beach erosion that plagues the other coastal towns when a big storm hits. So while enjoying these spacious beaches. you can jump the waves, laze in the sun, build sandcastles by the water's edge or collect seashells and at the same time be "cooler by a mile"
Bathing and swimming are permitted only at protected beaches where lifeguards are on duty - Ocean Safety Tips
Beach chairs, which are also known as
Surf Chairs,
are available at no charge by reservation at the following locations:
Lifeguard Station (summer) - 32nd & Avalon Avenue - 967-7587

Community Hall (off season) - 30th & Avalon Avenue - 967-3066
SURF CHAIR RESERVATION HOURS:

Daily (summer): 10:00 am - 1:30 pm or 1:30 pm - 5:30 pm
Monday - Saturday (off season) - Call for appointment
Public Boat Ramps
54th Street Marina
Fishing Piers
Bayfront Piers at 8th, 23rd, 24th, 33rd, 37th 53rd & 57th Streets
Tennis Courts
8th Street; 39th Street
Recreation Department:
967-3066

Lifeguard Hours
10am-5pm Memorial Day thru Labor Day
The protected beaches are 9th, 15th, 16th, 18th, 21st, 24th, 26th, 28th, 30th, 32nd, 35th, 38th, 40th, 43rd, 50th, 57th, 61st, 65th, 69th, 73rd, 76th, and 78th Streets
*Federal Beach Restoration/State Jetty Projects, scheduled to begin this summer, will result in some beach closings. Please do not attempt to access any beach posted "CLOSED"
The use of rafts, surfboards and catamarans are permitted only at designated beaches

Raft beaches are 12th, 18th 24th, 28th, 35th, 40th, 50th, 61st, 69th, and 78th Streets
Catamaran beaches ($100.00 License required) are 44th through 48th Streets
Surfing Beaches


30th St & between 10th & 11th Streets
Beach Regulations:
Fires, alcoholic beverages, bottles, glass, sharp objects, loud noise, indecent language or actions strictly prohibited
Picnicking on the beach is permitted. Place trash/paper in trash cans, glass/aluminum in recycling containers. It is illegal to litter
NO DOGS permitted on the beach, boardwalk or dunes ANYTIME between March 1 and September 30
No sleeping on beach or boardwalk from sunset to sunrise
Trespassing on the dunes STRICTLY PROHIBITED. Subject to $1000 fine. Use the paths only
Trespassing in areas posted for endangered beach nesting birds is STRICTLY PROHIBITED also
Handicap Access to Beach
Beach Patrol has sand wheelchairs available. No charge. Call Patrol 967-7587
Beach Tags
are available and can be purchased in the booth outside of
Community Hall

Friday - Sunday (call 609-967-3066), or

at the beach

by one of our friendly attendants
2011 Beach Tags
To partially offset the cost of maintaining and protecting its beaches for your enjoyment, Avalon requires that beach tags be worn by all using the beach, 12 yrs. or older, 10 A.M. to 5 P.M. , June 1 through September 7, 2009. Pre-season beach tags may be purchased weekends beginning April 11 at the Beach Tag Booth at Community Hall. Other beach tags may be purchased daily April 25 through September 7 at the booth on or beginning June 1 from beach tag inspectors on the beach. Beach tag fees are: pre-season (purchase on or before May 31) $21.00; season tag (effective June 1) $26.00; weekly (Saturday through Saturday) $12.00 and daily $6.00. Reciprocity of beach tags is observed between Avalon and Stone Harbor.
Seasonal beach tags can also be ordered through the mail this Spring. Please send a stamped, self-addressed envelope, along with a check, to: Avalon Tax Office/Beach Tags, 3100 Dune Drive, Avalon, NJ 08202. Make check payable to: Borough of Avalon. Please indicate how many seasonal beach tags you are ordering at the $21.00 preseason price. You will be mailed a receipt from the tax office. During your next visit to Avalon, redeem your receipt for the number of beach tags that you ordered. Actual beach tags are not sent through the mail. Checks must be received at the Avalon Tax Office no later than May 29th, 2011. Weekly and daily tags cannot be ordered through the mail.
Avalon and Stone Harbor beach tags are valid at either resort beach
---

Ocean and Beach Information - You can check the water quality for our 7 miles of clean beaches and all other resort beaches from this NJ official site.
Learn to swim - The best thing anyone can do to stay safe in and around the water is to learn to swim--this includes adults and children. The American Red Cross has swimming courses for people of any age and swimming ability. Contact your local Red Cross chapter for information on courses
Stay within the designated swimming area - ideally within the visibility of a lifeguard
Never swim alone
Check the surf conditions before you enter the water
- Check to see if a warning flag is up or check with a lifeguard for water conditions, beach conditions, or any potential hazards
Stay away from piers, pilings, and diving platforms when in the water
Keep a lookout for aquatic life
- Water plants and animals may be dangerous. Avoid patches of plants. Leave animals alone
Make sure you always have enough energy to swim back to shore
Donít try to swim against a current if caught in one
- Swim gradually out of the current, by swimming across it
---
2011 Beach Tag Information
All persons 12 and over must display tags the Friday of Memorial weekend to Monday of Labor Day weekend, 10:00 a.m. - 5:00 p.m.
| | |
| --- | --- |
| Seasonal tags through May 31st | $21 |
| Seasonal tags beginning June 1st | $26 |
| Weekly tags (Saturday - Saturday) | $12 |
| Daily tags | $6 |
Stone Harbor Beach Patrol Building - Beach Tag Office - 95th Street the Beach - (609) 368-6805
Open 10:00 am to 4:00 pm
Seasonal, weekly and daily tags may be purchased from inspectors on the beach or from the Beach Tag Office during the summer season. To purchase tags by mail, send check with name and address, phone number and the number of tags desired. Tags will be held under your name at the Beach Tag Office located in the Beach Patrol Building. See address and phone number above. Click here for the Beach Tag order form.
Handicap Access to the Beach
Sand wheelchairs can be reserved at the Beach Tag Office 368-6805 at no charge. There are accessible beaches. See Beach Patrol
Lifeguard Hours
10 am - 5 pm

Surfing Beaches
81st Street & 110th Street

Surf Fishing Beaches
at discretion of lifeguard captain on a daily basis

Public Boat Ramps
80th St Marina - $6 day, $75 seasonal
Beach Tags are available by mail or at the Stone Harbor Beach Patrol Building, 95th Street & the Beach (609-368-6805), or at the beach. Stone Harbor and Avalon beach tags are accepted at either location