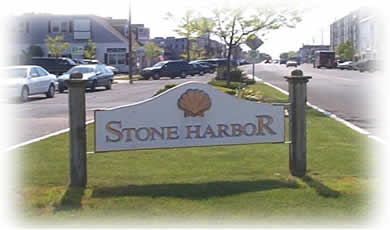 Halfway between Ocean City and Cape May is one of the finest resorts on the whole New Jersey coast - Stone Harbor. It shares the barrier island with Avalon.
Avalon occupies the northern end of the island and at 80th Street, Avalon ends and Stone Harbor begins. Together they share 7 miles of pristine beaches and sparkling clear ocean water. Beach tags are required.
Visitors all over South Jersey flock to Stone Harbor to enjoy a unique shopping experience. Quaint shops of every genre can be found here from boutiques to souvenir stores. While you are in town, make sure to check their calendar of events for more choices on what to see and do.
Great seafood restaurants are plentiful in both Avalon and Stone Harbor as well as pizza shops and ice cream parlors. Whatever your mood or desire, you can find it here.
Sometimes it does happen while on vacation and if you do not feel well, there are doctors on the island and Burdette-Tomlin Hospital is just a few miles away.
Stone Harbor not only cares for your needs but cares for the environment also and has dedicated 6,000 acres of coastal wetlands for the preservation and education of the ecosystem - The Wetlands Institute. As you enter Stone Harbor from the causeway, you pass this educational facility. You can learn even more about ecosystems from this government site.
The municipality of Stone Harbor has also dedicated 21 acres of valuable property for the safety and nesting of herons - Stone Harbor Bird Sanctuary.

It is registered as a National Landmark by the National Park Service and thousands of herons can be seen here.
Pets Rules
Beach Tags are required in Stone Harbor
Beach Tag Office - summer: 609-368-6805
Beach Patrol - summer: 609-368-8461
Daily Beach Hours 10AM to 5PM
Beach Fees
$5 day, $10 week, $22 season. Tags required 5/27 - 9/5
Lifeguard Hours
10 am - 5 pm

Surfing Beaches
108th Street & 110th Street

Surf Fishing Beaches
at discretion of lifeguard captain on a daily basis

Public Boat Ramps
80th St Marina - $6 day, $75 seasonal
Handicap Access to the Beach
City has sand wheelchairs that can be reserved at the Beach Tag Office 368-6805. There is no charge for use of chairs. City does have accessible beaches. See Beach Patrol
Beach Tags are available by mail or at the Stone Harbor Beach Patrol Building, 95th Street & the Beach (609-368-6805) or at the beach.
Stone Harbor and Avalon beach tags are accepted at either location