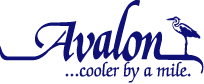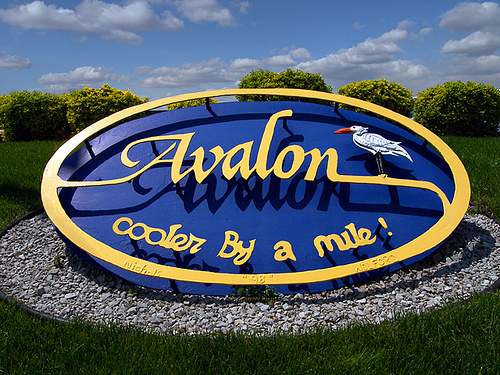 AVALON'S CLAIM THAT IT IS "COOLER BY A MILE" results from the fact that it extends one mile further into the ocean than the other barrier islands. Avalon is a quiet, relaxing resort town. The white sandy beaches are not crowded and the ocean is clean and cool. Here you can enjoy walking in the water, splashing in the surf, building sandcastles by the water's edge or reading a good book. Or you can just sit with your feet in the water and enjoy the sights and sounds of the breaking waves and the seagulls as they soar overhead. Whatever your choice, this is where you want to be......
Did you know that Avalon, New Jersey is the premiere family-oriented vacation shore community in Southern New Jersey? Avalon offers a beautiful bathing beach, opportunities for fishing and crabbing, tennis courts, basketball courts, playgrounds, parks, a number of summer sports camps, many fine restaurants and shops and family activities.

Amusement parks and water-parks are only a twenty minute ride if you head south on Ocean Drive...offering exciting games and rides to satisfy the most adventure seeking spirit. We have historic villages, beautiful gardens, cultural arts, golf, antique shops, and whatever else suits your pleasure within a few minutes' ride of Avalon.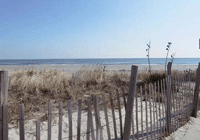 High dunes protect the beaches. By planting special grasses and natural foliage in these dunes, beach erosion has been minimal. The beaches are further protected by not allowing trespassing on them and by using walkways at the street ends to access the beach. Beach tags are required here. Not only does Avalon pride itself on its beaches, but the town also has beautiful parks and playgrounds which is maintained by private citizens. There is always something to do in this town and their calendar of events is full of fun and exciting things for everyone in your family to enjoy.
Read current news about happenings in Avalon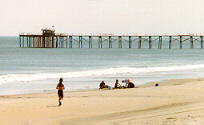 If you're looking for a relaxing pastime during your stay, boating and fishing are highly recommended. You can surf fish or fish from the piers and jetties throughout town. The Avalon Sport Fishing Center- 14th and Ocean Drive is home port for charter boats. Then there is always my favorite pastime - shopping!
Avalon is very much like Stone Harbor except that there is a small half mile boardwalk by the beach. BICYCLES are permitted on the boardwalk ONLY between 5 AM & 10 AM. Motorized bicycles, skateboards, roller skates, roller blades, and mopeds are NOT PERMITTED on the boardwalk at ANYTIME.
Because Wildwood is so close, there is no need to have the amusements that can be so easily found just a few miles away. Generally, Avalon seems to appeal to families and 30-somethings who are trying to find a quiet place along the Jersey Shore to call their own.
Avalon Elementary School is situated at 32nd Street and Ocean Drive - 967-7544 - other general information
Forget that diet for now and bring a hearty appetite to Avalon for there are many great restaurants and excellent accommodations. So come and enjoy Avalon.
Avalon Recreation Department- borough information
Season Pass - $15.00 - for the season if purchased on or before May 31st
$20.00 - after May 31st
Weekly Pass - $10.00
Daily Pass - $5.00
Beach Tags
- 967-5928
Beach Patrol - 967-7587
Avalon and Stone Harbor beach tags are valid at either resort beach
Back Yard Restaurant
- 220 81st Street, PO box 447, Avalon - 368-2627
Cafe Loren - 23rd and Dune Drive, Avalon - 967-8228
Golden Inn - 7849 Dune Drive, Avalon - 368-5155
Mirage Restaurant - 79th and Ocean Drive - 368-1919

Moran's Dockside - 14th Street and Ocean Drive - (609)-368-1321

Nicole's Restaurant - 1st Avenue & 8th Street

Princeton Bar & Grille - 2008 Dune Drive - 967-3456

- 2409 Dune Drive - (609) 967-3200

Sea Grille - 225 21st Street - (609) 967-5511

Whitebrier - 260 20th Street - (609) 967-5225

Windrift Hotel - 79th Street, PO Box 271 - (609) 368-5175