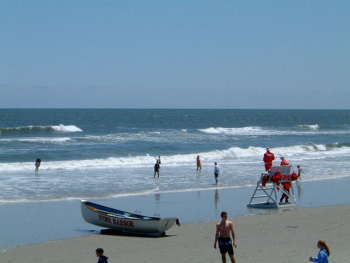 The beaches in Stone Harbor and Avalon are some of the finest in the whole South Jersey Coast. This seven mile stretch of white sand is clean, well guarded and not as crowded as other surrounding beaches. The water is crystal clear. Truly this is one of the finest places to vacation.
Stone Harbor 2011 Beach Tag Information Season $ - Weekly $ - Daily $
Stone Harbor and Avalon have interchangeable beach tags. They can be used at either location. This year there has been an increase for seasonal tags only so it will cost you a little more to enjoy the sun and sand. The increase will compensate for the cost of lifeguards, beach maintenance etc. Avalon beach information
GUARDS ARE LOCATED AT RAFT AND BODY BOARD BEACHES:
83rd, 87th, 94th, 96th, 100th, 108th and 117th Streets.
THEY ARE ALSO LOCATED AT THE FOLLOWING BEACHES WHERE RAFTS AND BODY BOARDS ARE NOT PERMITTED:
81st, 86th, 90th, 95th, 102nd, 103rd, 105th, 110th
116th and 120th Streets
SURFBOARDS (with leashes attached) ARE PERMITTED AT:
81st and 110th Streets
KAYAKS ARE PERMITTED AT:
122nd through 126th Streets
Handicapped Ramp Access CALL 609-368-5102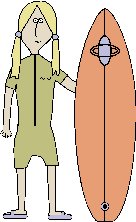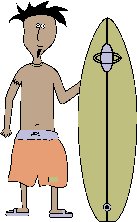 For your Information
The following steps have been recommended by the American Academy of Dermatology and the Skin Cancer Foundation to help reduce the risk of sunburn and skin cancer
Minimize your exposure to the sun at midday and between the hours of 10:00AM and 3:00PM.
Apply sunscreen with at least a SPF-15 or higher, to all areas of the body which are exposed to the sun
Reapply sunscreen every two hours, even on cloudy days. Reapply after swimming or perspiring
Wear clothing that covers your body and shades your face
Avoid exposure to UV radiation from sunlamps or tanning parlors
Protect your children. Keep them from excessive sun exposure when the sun is strongest (10:00AM and 3:00PM), and apply sunscreen liberally and frequently to children 6 months of age and older
Do not use sunscreen on children under 6 months of age. Parents with children under 6 months of age should severely limit their children's sun exposure
Always consult a physician with your questions concerning the health effects of UV exposure
---

Sun Safety Tips
Protect Yourself and Your Family All Year Round
Do not sunbathe
Avoid unnecessary sun exposure, especially between 10:00 a.m. and 4:00 p.m., the peak hours for harmful ultraviolet (UV) radiation
When outdoors, use sunscreens rated SPF 15 or higher. Apply them liberally, uniformly, and frequently
When exposed to sunlight, wear protective clothing such as long pants, long-sleeved shirts, broad-brimmed hats, and UV-protective sunglasses
Stay away from artificial tanning devices
Teach your children good sun protection habits at an early age: The damage that leads to adult skin cancers starts in childhood
Examine your skin head to toe at least once every three months
Beach chairs, which are also known as
Surf Chairs,
are available by reservation at the following locations:
Lifeguard Station (summer) - 32nd & Avalon Avenue - 967-7587

Community Hall (off season) - 30th & Avalon Avenue - 967-3066
SURF CHAIR RESERVATION HOURS:

Daily (summer): 10:00 am - 1:30 pm or 1:30 pm - 5:30 pm
Monday - Saturday (off season) - Call for appointment
Beach Tags are required by all beachgoers 12 and over and can be purchased in the booth outside of