Stone Harbor is the perfect family resort community with its white sandy beaches, calm back bay waters, breathtaking sunsets and the best shopping in South Jersey. It deserves its nickname - "The Seashore at Its Best". Sharing this 7 mile island is Avalon to the north - the sister resort which is "Cooler by a Mile".
If you do want to go elsewhere check out our neighboring resorts. Here you may fine something different or more exciting, such as "Your Island Getaway" - The Wildwoods consisting of Wildwood, North Wildwood and Wildwood Crest. These resorts are great places to start. Here you can visit an action packed boardwalk with more rides than you can imagine, dine on excellent cuisine from seafood to Italian to whatever your palate desires throughout the city, treat yourself to a dinner theater, be entertained at various night clubs and so much more. There are other attractions off shore also. Museums are plentiful surrounding Stone Harbor and Avalon but don't forget to visit local places too.
Twenty minutes to the north is "America's Family Resort". Ocean City also has a great boardwalk but on a smaller scale. It boasts two amusement piers, a water park, miniature golf courses and lots of places to eat and shop. This is definitely a family town and a great place to visit. There is absolutely no alcohol in this resort town.
Bring your camera when you visit Cape May to the south as it is the most picturesque town of all with its gingerbread Victorian houses.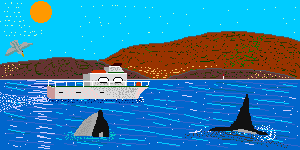 There is excellent shopping and dining there. This is also a good town for taking a cruise to go whale watching or going on a charter fishing boat. It is definitely "A Resort for All Seasons"
If you like crabbing for our excellent blue claws, I would suggest the bays of Sea Isle City. Not only are there boats to hire, you can also water ski here too. This small resort town is popular with all but especially the college crowd. Great seafood restaurants are plentiful here and Sea Isle is "A Perfect Place to Be".
If you want the casinos, stage shows and all night excitement, then Atlantic City is for you. It is "Always Turned On". It is about a 30-40 minute drive north on the Garden State Parkway to the Atlantic City Expressway.
Just beyond Atlantic City is the delightful city of Brigantine. There are many things to see and do here. The Stranding Museum where where all hurt and sick mammals are cared for is located on this island. Recreational activities from young to old are also catered to - from ball fields, tennis courts, skateboarding facilities, swimming pools to outdoor concerts and senior citizen activities PLUS more! No wonder it is known as "An Island You'll Love for Life!"
There are numerous places surrounding Stone Harbor for something to see and do on a rainy or overcast day or if you have just had too much sun. I have some listed on our Activities page but here are additional ones for you too.
Lake Lenape Park - Mays Landing - beach, boating, miniature golf, roller skating, carousel and picnic areas - 625-2021
Kids College - Atlantic Cape Community College - July 12 - August 13...morning and afternoon programs for children 5-12 - 343-4829
Renault Winery and Glass Museum - Egg Harbor City - oldest vineyard in the US - wine tasting, tour, gourmet restaurant and gift shop
Naval Air Station - located at the Cape May County Airport in Wildwood - exhibits of vintage planes and military memorabilia
Cape May-Lewes Ferry - year round service from Cape May to Lewes, DE - shop, dine and sightsee at this quaint town or ride into Rehoboth Beach to do some discount shopping at their large outlet malls
Cape May Court House - right outside Stone Harbor is the county seat
Off shore the best places to see are:
Historic Cold Spring Village

- 720 Route 9, Cape May- 19th Century village living history museum portraying the lifestyles of that period in a rural South Jersey community - 898-2300

Cape May County Zoo - Route 9 off the Garden State Parkway, Exit 11 - 80 acre zoo including a reptile house, African Savanna and an aviary - 465-5271
Leamings Run Colonial Gardens - Route 9 in Swainton, Middle Township - flower theme gardens along one mile walk depicting a colonial whaler's farm of 1695 - also the country's largest annual garden - 465-5871
Story Book Land - fairy tale theme park with rides for young children - Route 322 (Black Horse Pike)
TW Sports - Black Horse Pike, Egg Harbor Township, McKee City - family fun center with go-carts, miniature golf, batting cages, bumper boats and kiddie rides - 484-8080
Stone Harbor Bird Sanctuary - Third Avenue and 114th Street, Stone Harbor - 21 acres with hundreds of species of shore birds - 368-5102
Cape May Whale Watch and Research Center - 1286 Wilson Drive, Cape May - take a narrated ride on a catamaran and view whales, dolphins and other marine wildlife from April through December - 898-0055
- view this "gingerbread" city
Big Flamingo/Captain Sinns Sightseeing Center - Wildwood Crest - sightseeing, dinner and whale watching cruises - 522-3934
Delta Lady - Island Cruises - 508 W Rio Grande Avenue, Wildwood - 80 foot Mississippi River boat offers narrated cruise along the intercoastal waterways to see waterfront restaurants, marinas, mega-yachts, mansions, bird sanctuaries, canals, commercial fishing fleets and the US Coast Guard base and Fleet at Cape May. The choice is yours which tour you take - 522-1919
Silver Bullet Dolphin and Whale Watch - speedboat ride departing Wildwood Marina at Rio Grande and Susquehanna Avenues in Wildwood - 522-6060
Six Flags Theme Park - this is a distance away up the Garden State Parkway but if you still have not satisfied your "amusement ride fantasy" in Wildwood, then this is the place to visit. Also has a wild safari where you can drive through to see the wild animals
Sea Life Museum Marine Mammal Stranding Center - 3625 Brigantine Blvd, Brigantine - 266-0538
Lucy the Elephant - Decatur and Atlantic Avenues, Margate - world famous 65-foot pachyderm. Walk through this elephant, a 6 story building - 823-6473
Avalon Museum and Historical Society - 215 39th Street, Avalon - 967-0090
Cape May County Historical Museum - 504 US Highway No 9, Cape May Court House - 465-3535
Cape May Point Lighthouse - Lighthouse Avenue, Cape May Point - restored 1859 structure and is one of the oldest continually operating lighthouses in the United States - panoramic view of the Jersey Cape and Atlantic ocean - 884-8656
Children's Museum - 3112 Fire Road, Egg Harbor Township - 645-7741
Dennis Township Schoolhouse Museums - 681 Petersburg Road, Dennis Township - 861-1899
Flyertown Toy Train Museum - 2044 US Highway 9, Clermont - 624-3173
Friends of Historic Cold Spring Village - 735 Seashore Road, Cape May - 898-1919
George F Boyer Historical Museum - 3907 Pacific Avenue, Wildwood - Wildwood memorabilia - the history of Wildwood starting with its merger with Holly Beach City - National Marble Hall of Fame here - 523-0277
Greater Cape May Historical Society - 643 1/2 Washington Avenue, Cape May - 884-9100
Historic Cold Spring Village 720 State Highway No 9, Cape May - South Jersey rural community of mid 19th century - working craftspeople in period costumes - 898-2300 - 1048 Washington Avenue, Cape May - 884-5404
Noyes Museum of Art - Lily Lake Road, Oceanville - 652-8848 - variety of exhibits, galleries, lectures, concerts, arts and crafts
Ripley's Believe It or Not - 1441 Boardwalk, Atlantic City - view a jellybean roulette wheel and world's only miniature medieval castle plus more - 347-2001
- 1721 Mt Pleasant Road, Tuckahoe - 628-2850 - 235 93rd Avenue, Stone Harbor - town's unique history - 368-1211 - 1075 S Stone Harbor Boulevard, Stone Harbor - Birdwatcher's paradise with 60,000 acres of wildlife refuge and marsh trails, observation tower, aquarium, children's discovery room. - 368-1211
Whitesboro Historical Foundation
- 2215 US Highway No 9, Whitesboro - 465-5655
- 1600 Delaware Avenue, Cape May - learn about Cape May Harbor, Delaware Bay, tidal marshes and ocean beaches - 898-8848
Cape May Bird Observatory - birdwatchers resource
Parks